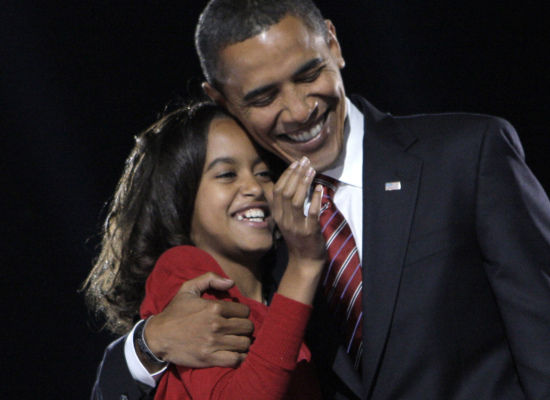 Presidential Particulars


President Obama Fun Facts



11.November 2008, 13:05

From Washington to Lincoln to Kennedy, the Presidents of the United States have not only been the most powerful men in the country, their personal lives have also endured endless scrutiny, becoming the stuff of national myth. Choosing to run for president is therefore akin to baring your soul to 300 million Americans. WELT ONLINE English News has some of the latest gossip on the next POTUS.


Obama's life story is markedly different from all U.S. presidents before him, and the differences go far beyond his skin color. He is also the first president born outside the continental United States (he was born in Honolulu, Hawaii), and the first to have been a constitutional law professor by profession.

But did you know his career ambition as a child? What his favorite food is? What his name means and where it comes from? What his nickname was in high school?

The U.S. president inevitably serves as a role model for children in the United States and beyond. Hospitals across the country, as well as in Obama's father's Kenyan hometown, have already reported a dramatic uptick in the number of baby 'Baracks' born.

Keep on reading for more fun facts about America's 44th President.


Personal Life

-Obama was born August 4, 1961. Born precisely one year later: Roger Clemens.

-When he was young, he wanted to be an architect. Instead, he became an architect of change.

-His name means "blessed one" in Swahili.

-He had admitted to trying cocaine in his youth.

-His Senate office was once Robert Kennedy's.

-In high school he was called "Barry O'Bomber" for his mad basketball skills.


His favorite books

-He has read all of the Harry Potter books.

-On the campaign trail he was reading Fareed Zakaria's book 'Post-American World'.

-His favorite book is Herman Melville's Moby Dick.

-He collects Spiderman and Conan the Barbarian comics.


His style

-He wears (American-made) suits by Hart Schaffner Marx costing $1,500 each.

-On his wrist he wears a Secret Service watch (made in China).

-He gets a haircut every nine days at Zariff in Chicago at $21 per cut.

-He has four identical pairs of black shoes, size 11.

-Presidential Pet: Obama's ten-year-old daughter Malia said she wanted to get a "goldendoodle", a cross between a golden retriever and a poodle, since this was the "optimal dog" given her allergies.

-Chicago radio host Santita Jackson, daughter of the Reverend Jesse Jackson, is Malia Obama's godmother.

-His first date with his future wife Michelle was to see Spike Lee's 'Do the Right Thing'.


His favorite food and drink

-Eating like Obama: His favorite restaurant is Topolobampo in the River North section of Chicago, Illinois, serving Mexican and regional cuisine in a classy setting.

-The British current affairs magazine The New Statesman listed Obama as one of its 'Ten people who will change the world' in its October 2005 edition.

-He worked at a Baskin Robbins ice cream shop as a child and since then has not liked ice cream.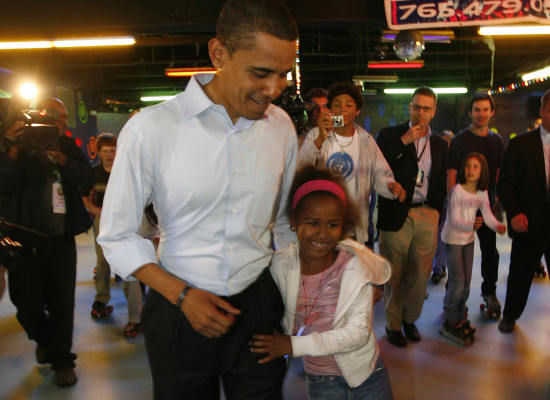 Barackisms: From Obamaphoria to Bamelot



Barack Obama's election has done more than usher in a new era of American government - it's added a slew of words to the political lexicon.




The first Barackisms emerged during the two-year campaign, as Obamamania gripped the Democratic candidate's supporters.

As the scale of the African-American's victory became clear on Tuesday night, his voters moved through Obamaphoria and into Obamatopia, some proclaiming the victory with cries of Obamalujah, if eyewitness reports are to be believed.

Meanwhile Republicans cursed the result with their own Obamanyms, waving their Nobama placards and talking of the Obamanation of having a pro-choice, pro-gay rights liberal in the White House.

And the trend has been taken up by foreign commentators. A Croation newspaper proclaimed the election oft he US's 44th president with the headline "Obamerika".

Here's a glossary of Obama-themed terms, culled from websites, news reports and the blogosphere. If there are any we've missed, post them in the comment box at the bottom of the story.

OBAMAPHORIA: The postelection rapture that swept over Obama's supporters worldwide.

OBAMANATION: A twist on "abomination," expressed by evangelicals and other conservatives who oppose Obama's stance on abortion, gay marriage and other social issues.

OBAMARAMA: The celebrations around the Jan. 20, 2009, inauguration.

OBAMANOS: A play on "Vamonos," or "Let's go," among Obama fans in Mexico.

OBAMATOPIA: The political paradise that Obama's staunchest supporters hope he'll usher in.

OBAMALUJAH: Exultation shouted by his fans.

OBAMATRONS: The policy wonks who will occupy the West Wing of his White House.

OBAMASCOPE: Media scrutiny of the new leader. (Example: "One hundred days after Barack Obama took office, newspaper editors put the president's economic plan under the Obamascope.")

OBAMANATOR: Hollywood-inspired nickname for the new president – even if he's got what California Gov. Arnold Schwarzenegger contends are "skinny legs" and "scrawny little arms."

OBAMALICIOUS: Complimentary term used by those who like Obama's looks.

OBAMALOHA: Goodbye, Obama-style, with a nod to Hawaii, his birthplace.

OH-BAMA: Joyful exclamation, via headlines in the Kennebec, Maine, Journal, The Regisister Guard in Eugene, Ore., and The Namibian, from the southern African country of Namibia.

BAMELOT: Description of his presidency, from a New York Post headline that played on the youth and freshness of John F. Kennedy's administration that came to be known as "Camelot."

OBAMERIKA: Headline from the Croatian newspaper Slobodna Dalmacija.

BARACKSTAR: Description from those who believe Obama is "the Mick Jagger of politics" (from Slate.com).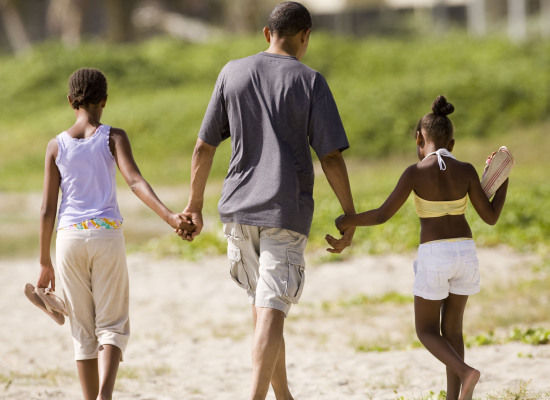 "In no other country on Earth is my story even possible," said Obama, who noted his father grew up herding goats in a small village and went to school in a tin-roof shack as he outlined the struggles of his mother's parents through the Depression and Second World War.

"That is the true genius of America, a faith in the simple dreams of its people, the insistence on small miracles," he said, describing himself as "a skinny kid with a funny name" that means "blessed" in Swahili who dared to hope.

But, said Obama, "we have more work to do" to give everyone the same opportunities in a country that's not black, white, Latino or Asian.

"We are all one people, all of pledging allegiance to the stars and stripes, all of us defending the United States of America."

Since then, it's been a whirlwind for the former state legislator, lawyer, educator and community organizer on Chicago's south side who was the first African American to be elected president of the Harvard Law Review.

Obama-mania has been non-stop despite his political inexperience. He made the covers of Time and Newsweek and earned the powerful endorsement of talk show queen Oprah Winfrey, who reaches nearly 50 million Americans a week.

He vied with Bill Clinton as a favoured campaigner in last November's mid-term elections, drawing the crowds of a rock star, and not just in traditionally liberal states.

He showed up in a swimsuit in People magazine after cameras tracked him on a beach vacation with his lawyer wife Michelle and two young daughters.

His second book, The Audacity of Hope, is another bestseller.

With generally liberal views, he insists on the need to forge consensus with conservatives, a theme that resonates with American tired of partisan bickering.

"We have to change our politics and come together around our common interests and concerns as Americans," he said last month when he announced an exploratory committee to raise money and build a campaign.

Yet for most Americans, he's still very much an unknown, perhaps his biggest selling point so far in a war-weary country where President George W. Bush has outworn his welcome among many.

"I serve as a blank screen on which people of vastly different political stripes project their own views," he has said.

During eight years as a state legislator in the Illinois capital, where Lincoln also served, he gained a reputation as inclusive, working with Republicans to draft ethics legislation, new campaign finance laws and health care reform.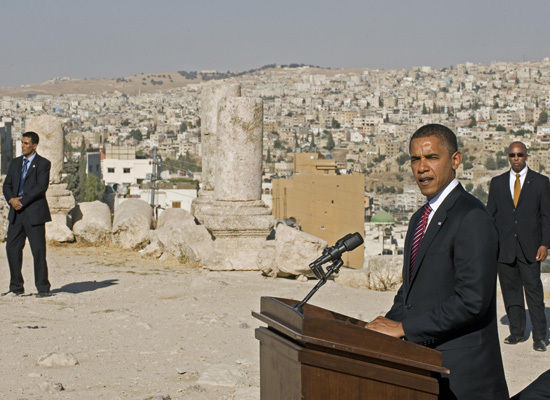 Obamas to Get Busy in the White House, Says Secret Service
In what is sure to be a controversial move, President-elect Barack Obama has indicated to his inner circle of advisors that he and his wife may have sex in the White House sometime during the four years of his first term in office.

"He's not saying they definitely will have sex," said an Obama confidante who declined to be named, "But he's not ruling it out. He's also not ruling out having sex more than once."

Although Mr. Obama himself is a regarded as something of a sex symbol, there has been surprisingly little speculation and rumor about the incoming First Couple's romantic life. Longtime observers and friends regard both Mr. and Mrs. Obama as somewhat emotionally chilly. "From what I understand, it's a bit like the Vulcan mating ritual, the Pon Far," said outgoing Democratic Party Chair Howard Dean. "Barack will feel a seasonal urge that he knows rationally and logically that he is powerless to control. He will inform Michelle and she will attempt to satisfy the urge. Their schedulers work out the precise details."

Although it was common for American presidents to have marital sex in the White House throughout the 19th Century, the practice has become increasingly rare in modern times. The last president believed to have frequent intercourse in the White House was Calvin Coolidge whose relationship with his wife, Grace, became intensely passionate following the death of their younger son from an infected blister.

The two chief executives most often associated with presidential sex in recent years, Bill Clinton and John F. Kennedy, did not have the sex they are famous for with their First Ladies. Jimmy Carter, a former president known for a tendency to overshare wrote in his memoir, Keeping Faith: Memoirs of a President, that he and his wife Rosalynn had intercourse once a year on New Year's Eve "for five minutes with the lights off" during his presidency. Mrs. Carter disputed her husband's account in her own memoir, First Lady from Plains.

With four large bedrooms, the First Family's private apartment on the second floor of the White House is designed to accommodate whatever marital configuration the President and First Lady happen to prefer, according to Rear Admiral Stephen Rochon, the Chief Usher of the Executive Mansion. "The President's bedroom and the First Lady's bedroom can be as close together or as far apart as they want," Adm. Rochon said, adding that, as with many couples, sleeping arrangements are usually decided based on who snores. As for the possibility that the Obamas might share a bedroom, Adm. Rochon said he "could not see any reason for that."

The Secret Service has already begun preparing for the possibility that the president's tight schedule might be interrupted on occasion by a brief sexual interlude. The code phrase to indicate that the president (code name "Renegade") and First Lady (code name "Renaissance") are having sex will be "discussing the Bosnian problem" as in "Renegade can't be disturbed right now. He and Renaissance are discussing the Bosnian problem." In the event that president and Mrs. Obama are, in fact, discussing the Bosnian problem and not having sex, Secret Service agents have been instructed to say that they are "reviewing the Bosnian situation." A spokesman for the Bosnian government could not be reached for comment.

Mr. Obama preferences with regard to birth control are not mentioned in either of his books, The Audacity of Hope and Dreams of my Father, though Michelle Obama has said on several occasions that she does not plan to have any more children.

Although Mr. Obama drew scant support form the Religious Right during his campaign, Fundamentalist Christians would have no objection to the president having post-marital sex in the White House according to Focus on the Family's James Dobson. "Intimate relations in the context of a different-sex marriage is just not something we have a problem with, despite what the liberal media would have you believe," he said.

The news that President Obama may soon be having sex in the White House was greeted by his supporters with decidedly mixed emotions. "I'm a little glad and a little sad," said Danielle Garcia-Robinson, a college student and Obama volunteer from Madison, Wisconsin. "I'm glad if he's happy and feeling pleasure but deep down a little part of me will always wish he were having sex with me," Ms. Garcia-Robinson said. Her boyfriend, David Nagel, echoed her sentiment. "That's how I feel, too," he said.

http://www.huffingtonpost.com/billy-kimball
Osama 'wanted to marry Whitney'



EndWorld Report Staff Reporter 008

Osama bin Laden, the mastermind of terror group al-Qaeda, was such a fan of singer Whitney Houston that he considered marriage and having her husband Bobby Brown killed.

This is but one of several details revealed by a woman who claims she was once the sex slave of America's most wanted man.

Sudanese poet and novelist Kola Boof, who says she was kept against her will as Bin Laden's mistress for four months in 1996, makes the revelation in her new autobiography.

In 'Diary of a Lost Girl', excerpts of which appear in Harper's Bazaar magazine, Boof claims: "Osama kept coming back to Whitney Houston. He asked if I knew her personally when I lived in America. I told him I didn't.

"He told me Whitney was the most beautiful woman he'd ever seen.

"He said that he had a paramount desire for her and although he claimed music was evil, he spoke of someday spending vast amounts of money to go to America and try to arrange a meeting."

Bin Laden wanted to shower the 'I Will Always Love You' singer with presents and convert her to Islam, claimed Boof who, until recently, was a writer for soap opera 'Days Of Our Lives'.

"He said he wanted to give her a mansion he owned in a suburb of Khartoum.

"He would say how beautiful she is, what a nice smile she has, how truly Islamic she is but is just brainwashed by American culture and by her husband — Bobby Brown, whom Osama talked about having killed, as if it were normal to have women's husbands killed," the 37-year-old writer claimed.

"He explained to me that to possess Whitney, he would be willing to break his colour rule and make her one of his wives."

Boof claims Bin Laden raped her and kept her prisoner in a hotel in Morocco. She has previously said she had to take her son out of a school in Los Angeles after rumours circulated that his father was the al-Qaeda mastermind.

In her autobiography she reckons Bin Laden also had a taste for Western literature.

"In his briefcase I would come across photographs of the Star magazine, as well as copies of Playboy," she wrote.

He would also "ramble on" about his favourite TV shows 'Miami Vice', 'The Wonder Years' and 'MacGyver', she claimed.